Lou Antonelli is a writer in every sense of the word. He is a classically-schooled journalist at Columbia University who has been writing in the profession since he was 16. Lou is a native Northeasterner who found himself living deep in the heart of Texas. This theme runs through his books "Fantastic Texas" and "Texas and Other Planets."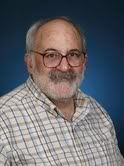 You're a Texas transplant. Have your experiences moving into the state shaped any of your fiction?
Yes. "Write what you know" remains good advice. I've lived in Texas since 1985, so I know Texas better than any other place I have ever lived in, and it is the best setting for my stories. But since I am not a native and didn't grow up here, I look at the state a little differently. I think I have a way of writing that makes the "feel" of Texas accessible for readers in the rest of the world.

Texas is large and diverse, and has a lot of interesting characters. You naturally accumulate many anecdotes and impressions. I take these experiences and run them through the "Texas Transmogrifier" and come up with some very interesting tales. People seem to enjoy them
You also didn't start writing science fiction until later on in your writing career. (I started when I was a pre-teen, so I'm a bit curious about this) What motivated you to write fiction?

I've read s-f since I was a pre-teen, and like so many other people, I also wanted to write, but I gravitated to journalism very early, and developing my writing skills made me realize I wasn't a good enough fiction writer to compete with the likes of authors such as Asimov, Clarke, Bester and Heinlein who were active when I was young.

From 1995 to 2001 was self-employed running my own newspaper, an extremely time-consuming job. The business failed, and at the start of 2002 I entered the normal work force and got a "paying job". That freed up so much time, comparatively speaking, that I decided to revisit my old ambition of writing s-f. I realized then I could actually make a go of it. There's another old adage that you must write a million words before you become a good writer. I suppose I had done that, but they were in newspapers.

I remember when I was a teenager reading s-f stories and thinking, "I can't write as well as that." By 2002 I was reading stories and it struck me, "Hey, I can write as well as that." Finally, by about 2004 or 2005, I read a story once in a major magazine and it hit me, "I can do better than that.

I'm not a literary genius. I think I've done well with the skills I have. When I saw "Amadeus" on Broadway, I rooted for Salieri. It's a pain in the ass when you are a good craftsman and have to butt up against people in life who are truly gifted and inspired. I swear, if I ever write my biography I will call it "Sympathy for Salieri".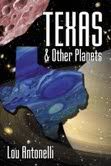 Tell us all about you. What has been your most recent work?
Merry Blacksmith Press just issued my second collection, "Texas & Other Planets". My first collection, "Fantastic Texas", was published at the end of 2009. I've had 50 stories published since the summer of 2003. "Fantastic Texas" is a collection of a dozen stories all set in he Lone Star State. "Texas & Other Planets" is a more comprehensive work with 20 stories; essentially a "Best of Lou Antonelli".
My most recent publication was an alternate history novelette, "Dispatches from The Troubles", published in the Summer 2010 issue of Greatest Uncommon Denominator (GUD).
I've had some collaborations over the past few years with Portland, Oregon-based author Ed Morris, and Yard Dog Press has accepted a chapbook, "Music for Four Hands", consisting of four of those stories, all secret or alternate histories.
I tend to write fast and without much editing, I suppose because of my background as a journalist. I usually reach a point where if I keep dabbling with a story it will begin to go downhill. Unlike many authors, who will says ideas are easy, it's the writing that's hard, for me the writing is easy, it's coming up with clever ideas I find difficult.
One time I decided, for the hell of it, to drop my finger in a dictionary and write a story based on the word I found. It was "dybbuk", and the story I wrote, "The Cast Iron Dybbuk", was published in Andromeda Spaceways In-flight Magazine in 2005.
Another time, I decided I wanted to write a story explaining a secret meaning of the term "Spam". I came up with an idea while driving on the highway, and I asked my wife to write down a phrase. "SPPAM" became one of my first published stories, in Bewildering Stories at the end of 2003.
One time, to overcome "idea block", I wrote down words from the titles of Alfred Bester short stories and put them on index cards. I shuffled the deck and drew three cards. "Choice Used Men" is the first line in "Good News for the Dead", published in M-Brane SF in 2009. All three of these stories are in "Texas & Other Planets".
Tell us about you as a writer. What genre do you like to write ?

I write what I feel like, which ranges all over the place. I've written everything from purported space opera to weird westerns. I write like the original "Twilight Zone" episodes – something different every week.
What about you as a person? What are your hobbies? Favorite TV shows? Interesting facts about you?
I am the local daily newspaper managing editor, and writing speculative fiction IS my hobby. I am a very stay-at-home, mundane person. I'm the president of the local Optimist Club. My wife and I belong to the First Baptist Church of Mount Pleasant. I'm so dull I put myself to sleep sometimes. All my weirdness is in my fiction; I swear, most of time I don't know where it comes from. I was raised in an Old World Italian Catholic family and as an adult moved to Texas and married a Southern Baptist.
I'm a first generation American – both my parents came to the U.S. after World War II. My favorite TV show is America's Funniest Videos" because it make me laugh and relax, which is great after a stressful day at the newspaper. I've also really enjoyed "Warehouse 13".
I always carry a silver dollar and a Bic orange fine point pen in my pocket. Just a couple of quirks, I guess.
The strangest thing about me – and my wife will back me up on this– is that for some reason I have almost a foolproof internal sense of time. I have never used an alarm clock, and I always wake up when I want to. I can also almost always tell what time it is. I don't even wear a wristwatch.
Do you have any pets? Have they ever found their way into your work?
My wife and I were unable to have children, so we adopted a pair of Canine-Americans. I wouldn't call them pets. I've had a number of canine kids over the years. I would love to have felines, also, but my wife is violently allergic to cats.
I've never really worked MY fuzz babies into my fiction, but in "The Witch of Waxahachie", one of the characters – Sergeant Lucy – based on a real police dog who once worked in Ellis County, Texas.
What do you do to spark your creativity?
All I need is quiet and coffee. If I start on something and it clicks, the pace will quicken. Otherwise, if I start to sputter, I will save it and either come back the next day or start something new. For me it's very much inspiration. I know that sounds literary, but since I only write speculative fiction as a hobby, I only do it while it is fun.
Any advice out there for people who want to get started writing?
The advice to write every day is very good; no matter how good you think you are, practice will make you better. Since I work at a newspaper, I DO write every day. I have gone weeks and even months without writing any fiction, but because of my day job, I can sit down and it rolls out just fine.
If you don't like rejection, don't start writing at all, and above everything else, write to your own satisfaction, because if you pay attention to what other people say, you'll go nuts. Don't participate in writers groups – they're like a bucket of crabs, just pulling each other down. Rejections per se are meaningless, but if an editor actually makes a comment, even on a rejection, you should pay attention.
What are your favorite books to read? What are you currently reading?
I mostly read other newspapers. Right now I am re-reading William F. Buckley's "The Unmaking of a Mayor". I am also reading Samuel Elliot Morrison's "The European Discovery of America" The Northern Voyages".
Did any writers inspire you to become an author? If not, what sparked that desire in you?
I was always impressed with Isaac Asimov when I was young. He lived in Massachusetts until I was 13. He seemed dashing and charismatic. I loved Alfred Bester's fiction the best. As I got older, Howard Waldrop's fiction really caught my fancy.
Let us know how we can find you? Do you have a website, twitter, Facebook fan page, etc? What are your public links?
I'm at my desk every weekday – and Saturdays – at the Mount Pleasant Daily Tribune. I've worked as a journalist since I was 16. I enjoy journalism, and I love my day job. As for the fiction writing, I have a Facebook page, and my blog is named This Way to Texas, at www.louantonelli.blogspot.com. I also have a Facebook fan page for my collection, "Fantastic Texas".


Any upcoming appearances we should know about?
So far I am confirmed at the following cons for 2011:
ConDFW X - Dallas February 18-20, 2011
ConJour - University of Houston at Clear Lake March 11-13, 2011
AggieCon - College Station March 25-27, 2011
SoonerCon 20 - Oklahoma City June 3-5, 2011
I will probably also attend ArmadilloCon in Austin and ApolloCon in Houston.