Today's Author Spotlight is on Barbara A. Barnett. Barbara's most recent work is the short story, "Mortis Persona," which was published online through Fantasy Magazine yesterday. You can find Mortis Persona at http://www.fantasy-magazine.com/2010/11/mortis-persona/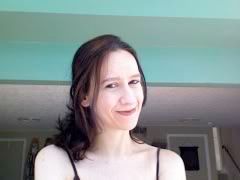 Barbara also has short stories forthcoming in Black Static, Daily Science Fiction, and Aoife's Kiss. Barbara said that her story for Black Static, entitled "The Wounded House" has an interesting backstory which she plans to disclose in her own blog at http://babarnett.livejournal.com

But while Barbara played coy about The wounded House, she was very forthcoming about Mortis Persona, which is an intriguing story about magic, actors and magical Roman Funerary rites.

Where did you get the idea for Mortis Persona?

I got the idea for the story during a panel at World Fantasy Convention a few years ago. One of the panelists was talking about ancient Roman funerals, where actors would wear death masks to represent ancestors of the deceased. So I thought, "Dude, what if the actors actually became the ancestors when they put on the masks?"

Normally it would have been a case of Butt + Chair = First Draft after that, but this story ended up being a bit more complicated. Setting it in ancient Rome, albeit an alternate ancient Rome with magic, took some research—particularly Roman naming conventions, which gave me an absolute headache. And while I usually plow straight through the first draft stage with short stories, this was one of the few where it became a total slogfest partway through. I banged my head against the wall until my forehead bled, then finally said "screw it" and went back to the beginning. Editing what I had already written helped me re-find my footing, so by the time I hit the spot where I had gotten stuck, I breezed on past and it was smooth sailing the rest of the way through the first draft.

While we're on the subject of Fantasy Magazine (Let's just acknowledge the elephant in the room) Since last we spoke, Fantasy Magazine has gone through a bit of upheaval. What does this mean for you and the story?

Fantasy's managing editor, Molly Tanzer, was just in touch with me earlier this week for my bio and author photo, so everything is on schedule. From what I've read about the editorial changeover, even though John Joseph Adams has taken over as editor, the inventory of stories that Cat Rambo and Sean Wallace purchased while they were editors is still being published as planned. The mag's official format switch is supposed to happen in March 2011, I believe, which is when they'll have run through Cat and Sean's selections and JJA's will start being published.

Aside from stories about Roman Funerals, what do you like to write?

I'm all over the fantasy/horror/science fiction map, from fairy-slaying leprechauns to opera-singing zombies to steampunk lemurs. There are very few sub-genres I wouldn't be willing to go on at least one date with. And while I haven't been writing them as much as I used to, I have a lot of fun with flash stories. I usually skew toward the humorous with those. Sometimes a goofy little mainstream piece will even sneak into the mix.

What do you do when you aren't researching Roman Naming Conventions? (Roman Naming Conventions should be the name of the next WorldCon).

When I'm not working on fiction or refining my plans for world domination, music and theater are a big part of my life. I've never performed on a professional level (unless you count singing at weddings), but I have a B.A. in vocal performance (along with one in English as well) from the University of Maryland, I've done a lot of community theater and singing in choruses and at churches (I met my husband while doing a production of Gilbert & Sullivan's Iolanthe), I used to play clarinet, and I've become decent-ish at piano.

In the day job department, I've worked on the administrative end of things for various performing arts organizations—an orchestra, an opera company, a music conservatory, and now a theater company. And I got to work with polka musicians while interning for the Smithsonian Folklife Festival in college. But as much as I love that I've gotten to work in the arts, I've ended up on the fundraising side of things (I'm currently a grant writer), which isn't the best fit for me. I'm planning to pursue a library science degree next year, which is something I'd been considering for some time (my music conservatory job was working in the school's library, and it was awesome), so I've recently launched into the fun world of grad school applications.

As for other interests, I'm your typical dork. Reading, of course. I watch far too much geek-tastic televison, like Doctor Who and shows from the Joss Whedon oeuvre. My favorite movie changes depending on my mood, but to summarize my tastes, let's just say that Han shot first. And I love mocking bad movies, so much that my husband and I now have an annual Bad Movie Party.

I also spend far too much time contemplating zombie apocalypse scenarios.

(I think we all do)

Music seems to be a big part of your life. Does it influence your writing as well?

I almost always write to music, particularly film scores. I'm a big film score nerd. I generally can't write to music that has words because I'll start singing along, but film scores are great because, by their nature, they're meant to help tell a story. It's easy to create playlists of tracks that will fit the mood or action of whatever I happen to be working on.

I've found that my inner theater geek likes to help my not-so-inner writer geek. I'll often get up and act out a scene to better capture the physicality and emotion behind it. Then I sit down and try to emulate that on the page. And fight scenes. Yes, I often choreograph them before writing them, but no, I haven't broken anything in the process yet. Yet. I'm a klutz, so it's only a matter of time.

A small online writing group I belong to does weekly hour writes where you get a prompt, then go off to write for an hour and see what you come up with. I haven't done one of those in a long while, but a lot of my stories sprang out of those hour exercises. It's great to just let your brain run free for an hour. And I've always been amazed how people in the group can come up with drastically different takes on the same prompt—often so different that you'd never know they all sprang from the same exercise.


You can read part 2 of Barbara's Interview here.